Festivals
Panguni Uthiram
'
panguni uthiram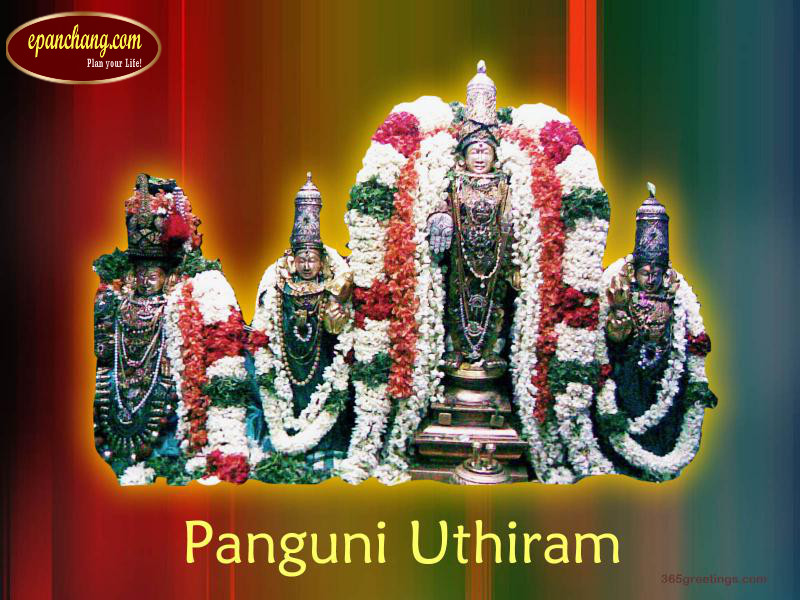 panguni uthiram
Panguni Uthiram
The day on which Uthiram nakshatram falls on the month of Panguni is celebrated as Panguni Uthiram. This is the month on which Lord Muruga began his journey with the purpose of defeating the Asuras.
It is the day when Krauncha and Tarakasura with the face of an elephant, of the Mayapuri city, were fought by Lord Subramanya's army chief Veerabahu.
Veerabahu was injured in the process and Tarakasura was later defeated by Lord Subramanya.
It was also on this day that he married Deivanai.
Mythlogically, why "Panguni Uthiram" is celebrated is known by the reason that it is a day of celestial marriages.
Siva marries Parvati
Kacchiappa Sivaachariyar was a Saivite devotee of Lord Siva, in the 9th century in Kanchipuram, TamilNadu. He provides a reason for the celebrations of Panguni Uthiram, in his work, Kanda Puranam. In it, he mentions that Lord Siva married Parvati, the daughter of Himavan, the King of Himalayas, on the Panguni Uthiram day in the Himalayas. Because of this, the day is considered to be holy for the Saivaites. Himavan met Lord Shiva at Mount Kailash and gave consent for the marriage of Parvati to Lord Shiva; which is the day of Panguni Uthiram.
Subramanya weds Devasena
The Panguni Uthiram day is also special for the devotees of Lord Subramanya. It is considered important because this is the day when Lord Subramanya married Devasena or Deivanai. On this day, Muruga devotees carry in a "Kavadi" in a procession when their prayers are fulfilled; or as a matter or routine prayer.
Disturbance in married life
Panguni Uthiram is also the day to remove blemishes in nuptial life. if the marriage was not conducted in an auspicious time or if there are any doshams, there could be disturbances in life after marriage. Panguni Uthiram is the right day to make right the issues after marriage. This day offers us an opportunity to strengthen and improve relationships. Panguni Uthiram has the power to dissolve all doshams and negative influences that are the causative factors of disturbances in family life.