Festivals
Aadi Perukku
'
aadi perukku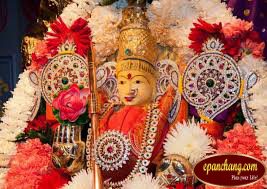 aadi perukku
Aadi Perukku
Aadi Perukku is a festival localized to the state of Tamil nadu. At the time of Aadi, all the rivers are in full flow. It is as a show of respect and gratitude that on the 18th of Aadi, the Perukku festival is celebrated on the banks of the rivers and streams every year. The festival is celebrated on the banks of Kaveri, Pennai and Porunai rivers of Tamilnadu.
This festival is also celebrated in all homes of Tamilnadu. It is also believed that is symbolic of the arrival of great wealth in life. The austerities are done by doing pooja with a bowl of turmeric mixed water. Poojas are conducted by offering fresh flowers, showing the lamp, while all the holy rivers such as Ganga, Yamuna, Godavari, Saraswati, Narmada, Sindhu, Kaveri, Vaigai are invoked into the bowl of water. The great Guru Agastya is invoked for his blessings and for the river Kaveri and Thamirabharani.
After the pooja, the water is poured on the plants of the house and not wasted. The offering prasadam is Sakkarai Pongal.
It is believed that this was the day when Lord Rama took a dip in the Kaveri river, to get himself rid of the sins of killing the Asuras. As it is known as the Dakshina Ganga, the Kaveri, consisting of 66 crore theerthas in it, is capable of removing past sins.
Aadi is the beginning of the Dakshinayana period of 6 months. This is the night period of the one day of the Devas. It is the time when farmers begin their work for the year. Auspicious times are identified and work started.
It is believed that all activities that are begun on this date, flourish for all time.
Aadi perukku day is also day good for purchasing of gold for the family. In fact, it is supposed to to be a much better day than Akshaya tritiya for purchase of gold jewellery. And not just for purchase of gold jewellery, but for all products.
It is also believed that any bank deposits begun on this day will multiply manifold and bring good fortune to the individual.
In the month of Aadi, any new undertaking is not begun for fear of failure. But, Aadi perukku is an exception where new businesses are begun with the anticipation of great success.