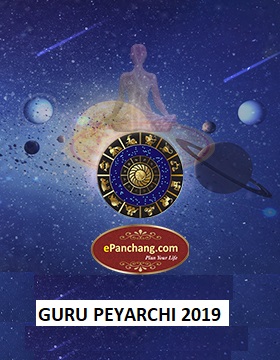 Jathagam in Tamil
When you are looking to get your jathagam in tamil, you are at the right place. At ePanchang, you are just a click away from your most accurate jathagam in tamil. When generating Jathagam in tamil online, based on your date, time and place of birth, the rasi chart, which is the placement of the planets in the rasi cloud is created first. This is followed by the navamsam chart, along with the dosham report such as chevvai dosham, sarpa dosham, puthra dosham as seen in the chart. ePanchang has put in many years of research in striving to put across the most accurate algorithms for generating your jathagam in tamil. Apart from jathagam in tamil, ePanchang is soon to release jathagam in malayalam, jathagam in telugu an jathagam in kannada. As you are aware, doshams are indicated in the positioning of the planets under certain conditions. These placements are accurately calculated when generating your jathagam in tamil, by ePanchang. Come and get your jathagam now; registration is not mandatory.
Tamil Horoscope Software
ePanchang has released tamil horoscope software for generating horoscope online. This online tamil horoscope software is yours for the taking, at all times of the day, throughout the year. The tamil horoscope software or jathagam software by epanchang generates your horoscope on the fly, where you just need to fill in the date of birth, time of birth and place of birth details, in the form. Your tamil horoscope is instantly created, which has the rasi chart, navamsam chart and the dasa bukthi details for 120 years [Deerghayu]. The dasa and bukthi chart printed out by the software indicates the remaining dasa at the time of birth and the start and end time of bukthis in the dasa. Right now the tamil horoscope software is online, at epanchang.com and is accessible to anyone with an Internet connection. The tamil horoscope software (tamil jathagam) service is offered free of any charges without any discrimination. However, if you generate charts in excess of 25 per day, you are requested to contact our sales team for a business account, exclusively for you.
Tamil Jathagam
It is a pleasant and proud feeling when one thinks about the mother tongue. Tamils all over the world speaking different languages, have their heart melt when they hear someone else speak tamil at the airport or the train station. In line with that thought, ePanchang offers you your tamil jathagam, in the tamil script. What is given as part of the tamil jathagam is the rasi kattam, the navamsa kattam and the dasa and bukthi phases for 120 years. Your tamil jathagam will also contain the dosham information; whether yours is a sudha jathagam or if there is a dosham, it is mentioned clearly.
Online tamil Jathagam
Your online tamil jathagam is available at epanchang; you may register yourself and the online tamil jathagam or online tamil horoscope page will remember all your personal details so you can come over again and again, to check your jathagam details online. In addition to your personal online tamil jathagam, you can also ensure that all your family members' details are fed in so that this becomes your online reference for your online tamil jathagam. These personal details can also be used to understand your daily, monthly and yearly good and bad times, for which the online tamil jathagam forms the basis; your most important personal tamil panchangam online. Please fill in your details to get your online tamil jathagam today.
Free Tamil Horoscope
Free tamil horoscope software is one of the many features offered by epanchang. The free tamil horoscope software available at epanchang is a result of many years of meticulous research by a team of IT professionals and experts in astrology with many years of experience in the field, who have put in long hours and effort to make sure the tamil horoscope is generated accurately and is helpful for the tamil Internet users all over the world. The free tamil horoscope or jathagam will include the natal chart or the rasi chart and the navamsam chart. This will also include the lagna, or the ascendant in the chart. Placement of the planets at the time of birth is indicated in the appropriate rasis in the rasi chart. Placement of Gulikan is not interpreted in this chart. The free tamil horoscope is meant to be an indicator of the life history of the jathagam and should be easily interpreted by any expert astrologer. This is because the free tamil horoscope also includes the dasa and bukthi duration for the jathagam for a period of 120 years. Get instant access to tamil horoscope software here at epanchang, absolutely free of any payment.
Online Horoscope
ePanchang provides free Jathagam in Tamil along with Tamil Horoscope Software based on birth date, time and place. Your tamil jathagam is generated for you, irrespective of your geographical location. Online tamil jathagam to prepare tamil jathagam, please fill in your date of birth, time and place of birth. Your tamil jathagam The online tamil jathagam consists of rasi kattam and navamsa kattam. Your tamil jathagam also discusses your doshams, such as sarpa dosham, kalathra dosham etc., your dasas and dasa bukthi for 120 years. Tamil jathagam is your birth chart calculator in tamil.